Formthotics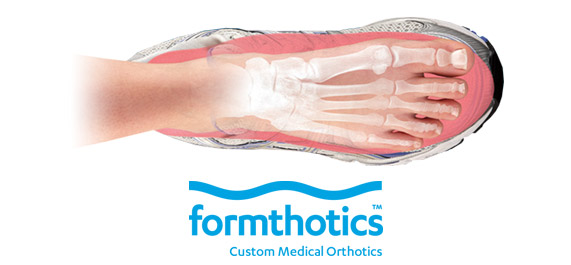 Swansea Clinic we are proud to be able to offer Formthotics as a treatment modality. We offer both consultation and fitting of the Formthotics within the same treatment session.
What are Formthotics?
Formthotics™ are a total contact foot orthotic – achieved by thermoforming (heat-moulding) the device and fitting it to the patient's foot. They are made from Formax™, a high grade proprietary thermoformable polyolefin 'closed cell' foam. With greater mouldability than other foams, it will hold a molded shape longer, better and more accurately than other orthotic devices. As a total contact foot orthotic, Formthotics™ provide the best possible neuromotor facilitation and biomechanical control.
The Formthotics Medical System is a patient centered process of assessment, utilising our expertise to quickly and effectively select, fit and adjust Formthotics™.
The system is a comprehensive clinical method to improve lower limb function with custom-fitted Formthotics and includes:
6 Tests – objective clinical tests
6 Steps – to select, fit and adjust Formthotics Custom Medical Orthotics
The system is based upon scientific literature as well as theoretical and clinical insight from respected health professionals in the fields of sports medicine, musculoskeletal medicine, podiatry and physiotherapy. It is an evidence-based, 'holistic' approach to producing functional foot orthoses.
Therapists providing this service